"We'll meet again..."
Submitted by Charlene Wight on Tue, 06/22/2021 - 18:51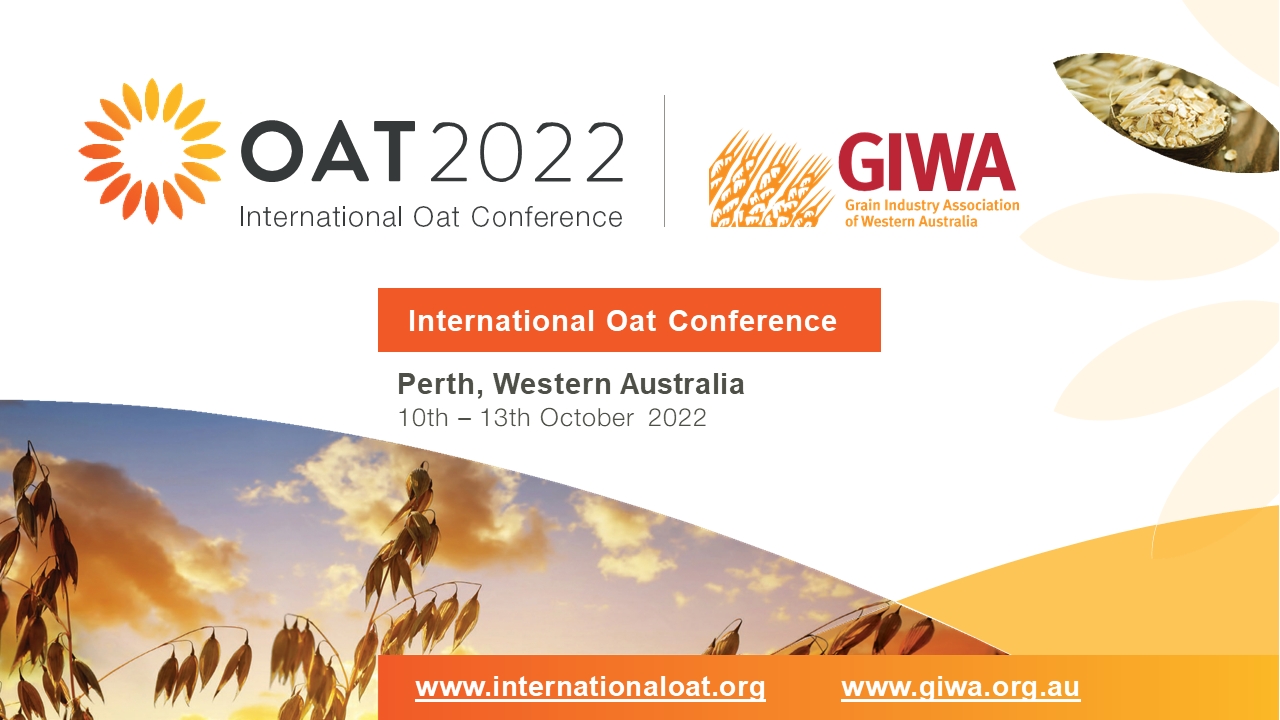 And this time we do know where and when…. We have confirmation that the 11th International Oat Conference will go ahead in Perth, Australia, from October 10th-13th, 2022! This will be a hybrid meeting, with options for joining in-person or remotely. Registration is now open! An updated list of IOC country representatives is also available.
In-person events coming up in the UK next week are the Saaten Union and AHDB field day on June 29th and Cereals 2021 from June 30th-July 1st.
Plant and Animal Genome (PAG) XXIX will also be held in-person, in January, 2022. Registration for that meeting is also open!
Other meetings will still be held virtually, including the Cereals & Grains 21 series. The first session is tomorrow, June 24th. Other sessions will be held on November 17th and 18th.
The 1st Food Oats Conference in Finland (article in Finnish) was held a few weeks ago, and recordings of the sessions (in English) will be available until the end of the month (payment required). Nancy Ames, who was one of the keynote speakers at the conference, was presented with a "Gold Harvest Career Achievement Award" by the Deputy Minister of Agriculture and Agri-Food Canada (AAFC) on June 16th. Congratulations, Nancy!
Speaking of oats as food, the Golden Spurtle World Porridge Championships will also be held virtually, and recipes and entry forms must be submitted by June 30th!
On July 28th, the Ottawa Research and Development Centre of AAFC will hold a virtual Oat Day. Presentations will be made available as videos ahead of time, and the meeting itself will be held on July 28th, from 10:00 am – noon EDT.
The "Speaking of Oats…" (SOO) webinar series will be back in September! The next webinar will be on September 16th at 11:00 am EDT, and will feature Shahryar Kianian and Oluseyi Fajolu (both USDA-ARS) and Eric Nazareno (University of Minnesota) speaking about "Oat Crown Rust: the Good, the Bad, and the Ugly". Registration is now open! Oluseyi recently published the 3rd issue of this year's Cereal Rust Bulletin, and Yue Jin reported on June 4th via the Cereal Rust Survey Listserv List that crown rust infection on oat had already been observed in the University of Minnesota's buckthorn nursery, one of the earliest times this has ever happened.
October's SOO webinar will feature Axel Diederichsen (details to be announced later). Axel works for Plant Gene Resources of Canada, AAFC, and was recently interviewed about the importance of studying seed morphology.
In terms of other deadlines, there are several job opportunities available. If you're looking for work in Australia, there are two positions available, one with AEGIC and one with InterGrain. There is also an opening for another PhD student with the CROPDIVA project, this time in Spain.
In other news, the North American Millers Association (NAMA) has been busy lobbying for funding for oat research in the USA. Some of the testimony can be heard in this video (about 1 hr in).
Meanwhile, the US Department of Justice has subpoenaed Ceres Global Ag "regarding its trading and other related activities, with a particular focus on Ceres' oat market trades from 2016 to 2019".
Other recent stories concerning oats in the USA can be found here:
Another recent article concerns fodder oat breeding in Australia: "Export fodder customers and growers to benefit from new breeding program".
I look forward to being able to meet with people in person again, particularly in Australia in 2022!