Some holiday cheer…
Submitted by Charlene Wight on Mon, 12/20/2021 - 12:28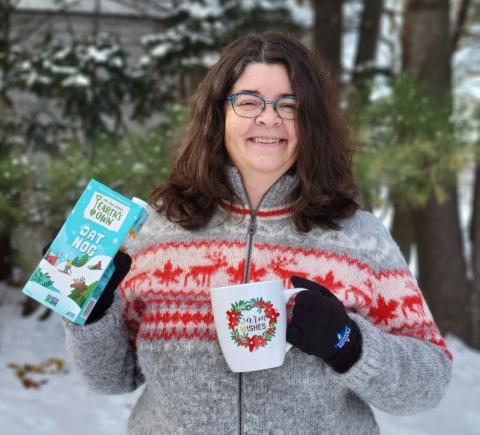 Well, look what I found at my local grocery store in Ottawa, Canada – Oat Nog! It's pretty good, too, with lots of nutmeg. (Look up "Egg Nog", if you're not familiar with the traditional Christmas drink.) Here in Ottawa the chances are quite high that we'll have a white Christmas with a fair amount of snow this year, but I'm sure the experience in Perth, Australia, will be quite different....
Perth will host the International Oat Conference (IOC) in October of 2022, of course, and registration is open. This will be a hybrid conference, so you can attend in person or virtually. The list of keynote speakers has now been finalized. Abstracts for other talks and posters should be submitted before March 31st, 2022. Please note that there are two forms – one for industry and one for scientific presentations. More information can always be found on the conference website or in the IOC section of the newsletter.
Pamela Zwer is the 11th IOC/Oat 2022 Program Convener (amongst other things) and has spent many years helping run the IOC meetings. She obtained her PhD in Calvin Qualset's lab at UC Davis in California, USA, and Cal recently sent some updates concerning the history of the UC Davis program. They can be found in the "Hall of Fame" section. One of them is an obituary for Coit Suneson, who passed away in 1975. The other concerns Cal himself, and includes a list of his publications and the oat varieties he developed.
In the "Community News" section, we have information about two more new people at the USDA-ARS in Fargo, ND, USA – Rajeev Gupta and Raj Nandety. Rajeev was mentioned in the update after the last "Speaking of Oats…" (SOO) webinar in November. One of the presenters of that webinar was Sijo Joseph, whose work on oat quality recently made the news. The video from that webinar, titled "Advancements in oat quality", can be found on the SOO YouTube channel, along with the videos from the other SOO talks. Many thanks to all of our presenters this year! Remember to fill out the nomination form if you would like to speak at a future webinar.
Unfortunately, we weren't able to bring you a SOO webinar this month. Pamela Zwer and Allan Rattey will be the main speakers in January and February. With the upcoming IOC meeting in Perth, we thought it would be interesting to learn about the history of the IOC, as well as oat breeding in Australia. The details have not yet been finalized, as finding a suitable time is quite the challenge. If you have photos or stories from previous IOC meetings to share, please send them to Pamela or to me (oatnewsletter@gmail.com).
One person good with sharing her time is Shea Miller, who helps me with this newsletter. Thank you so much, Shea! I'd also like to thank Jim Bradeen, who oversees the SOO webinar series, and all of you who have sent material for the newsletter this year. Much appreciated!
Even with the challenges that the COVID-19 pandemic still presents, I hope that you can relax and enjoy the holidays this season. Cheers to a much better 2022!